I really enjoy working with the clerical staff at Livingstone College. Two summers ago I did a workshop on using WordPerfect 6.0 for some of the staff in the Institutional Advancement Division. This is a collection of those people at work.
Carolyn Anderson
c.l.andy@ix.netcom.com
2648 Tantelon Place
Winston-Salem, NC 27127
United States
Mrs. Marsha Mitchell is the Administrative Assistant in the Institutional Advancement Office. Her superivisory is Mrs. C. Hunter.

Marsha is pictured below at work during the workshop. As you can see, she really likes to work on the computer. Among the tasks that Marsha is responsible for is the UNCF and the United Way

Marsha is married and the proud mother of a daughter Michelle.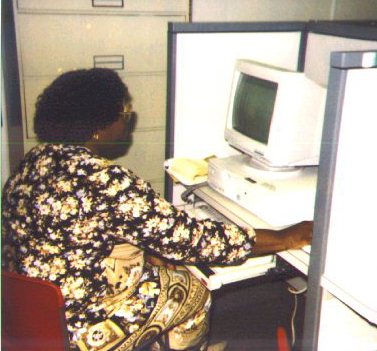 This page has been visited
times.